Wellness for Happiness - Community Health Screening

Singapore Buddhist Welfare Services held its annual community health screening at Fu Hui Link community hub, which attracted 400 participants, who were mostly elderly residents in Sengkang and Punggol. This event was held in partnership with Sengkang Health (SKH), Ang Mo Kio Family Service Centre (AMKFSC) and Health Promotion Board (HPB), as well as supported by Grace Lodge (GL) nursing home, North East Community Development Council and Agency for Integrated Care.
Blood tests to screen for chronic diseases were conducted by Sengkang General Hospital (SKGH), while Memory and Mood Screening was conducted by a CREST (Community, Resource, Engagement and Support Team) team from AMKFSC.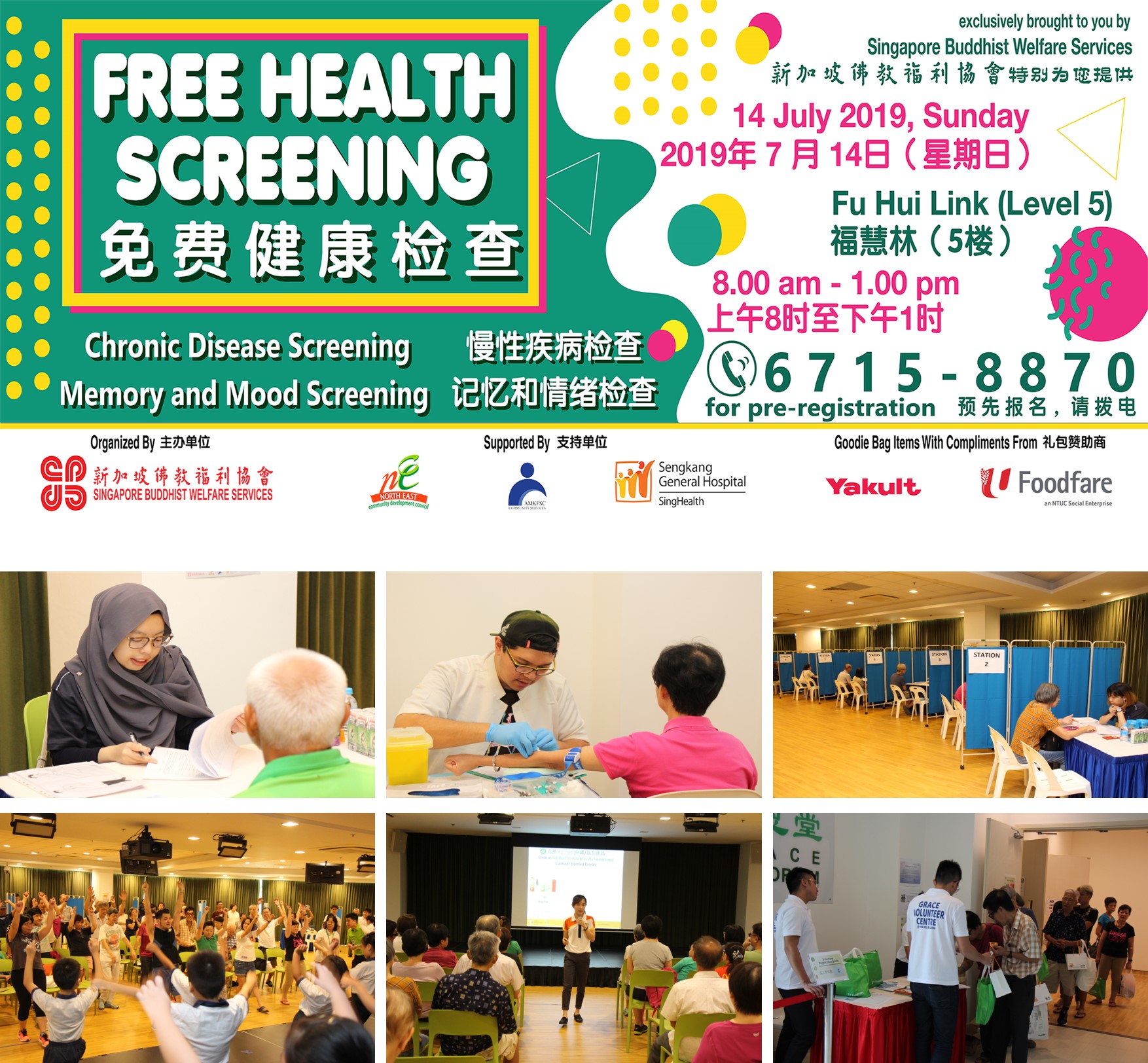 Health education activities were held concurrently, including "Dementia Care" by GL, "Understanding Dementia Patients" using special virtual reality sets provided by AMKFSC, "Healing Plants" by Green Haven halfway house, "Mammogram Information and Registration" by SKH and "Screen for Life" survey by HPB.
The participants warmed up through a Hearty Fun Exercise led by students of Hearty Care Centre. Following that, participants listened enthusiastically to a SKGH dietician's talk on "Eating Away the 3 Highs". There was another talk on "The Art of Caregiving", which explained the stages and challenges of caregiving, as well as self-care.
Participants were treated to free vegetarian lunch, Yakult drinks and freshly cooked vegetarian dishes at food-tasting booths. Everyone was delighted to bring home an awesome goodie bag containing healthy food and useful items.
For more details and enquiries, please contact us at:
SINGAPORE BUDDHIST WELFARE SERVICES
105 Punggol Road, Singapore 546636
TEL: (+65) 6489 – 8161; FAX: (+65) 6387 – 7887
EMAIL: sbws@sbws.org.sg